Traditional Food Exchange at Granby Park / Ireland 賭博日記
Dawoon is one of our wonderful Roving Bloggers and she wrote about the Food Exchange that happens every Sunday starting at 2pm. You bring a traditional dish and share your food with the other people that come along. Many thanks to Dawoon for translating her post into both Korean and English. You can read more of her posts on her blog here.
There is a 'Traditional Food Exchange' in Granby Park every sunday.
더블린에 온 이후로 다양한 국적의 사람들은 많이 만나봤지만,
다른 나라의 음식은 많이 먹어보지 못했다.
이런 기회야 말로 철호의 찬스!!
I've met a lot of people from different country here in dublin but unfortunately, there was not been any chance to taste their traditional food.So as a matter of course, it seems an excellent opportunity!!
학교에서 만난 한국 친구와 함께 궁중 떡볶이를 만들었다.
한국에서는 매우 보편적이고 인기가 많은 음식인데,
외국 친구들은 어떤 반응을 보일지 기대를 하면서…
At this morning, I cooked kong-jung-tteokbokki which is general and prevalent food in korea wondering how people would react.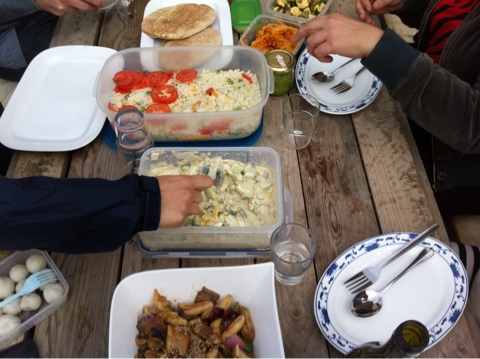 2시에 도착해서 까페에 앉았는데
아무도 온 이가 없어서 사실 조금 당황했는데
얼마 지나지 않아 다들 음식보따리를 들고 속속이 나타났다.
I arrived in park at two sharp.At that moment, I was a little embarrassed with a empty table,and then some people started to arrived bringing dishes. (yeah)
(바람이 많이 부는 날씨라 적잖히 추워하고 있는데, 이웃 블로거 팽귄님이 마법처럼 나타나서 'JQ님이시죠?' 하고 한국말로 인사해주셔서 놀랐다 ㅋㅋㅋ)
이렇게 모인 사람들의 국적은,
브라질, 폴란드, 한국, 더블린, 골웨이 !!
So, The nationality of people at the same table today was Brazil, Poland, Korea, Dublin, Galway!!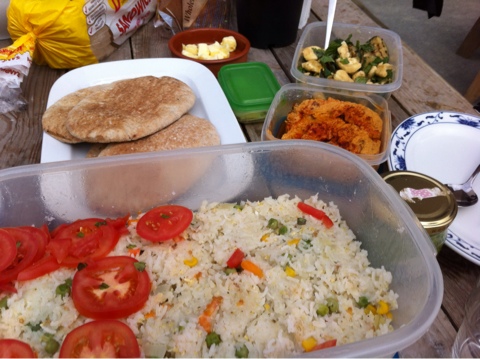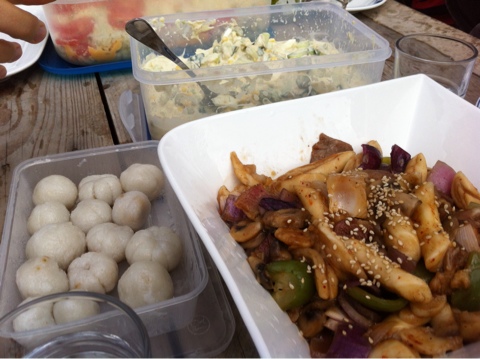 정말이지 다양한 음식들
So different food, So different culture!!
서로 자신들이 가져온 음식을 설명한 뒤
즐거운 마음으로 포크질을 하기 시작했다.
다른나라의 음식을 한 자리에 먹는 만큼 분위기도 묘했다.
After introducing the food what they brought, people started to picked up forks and knifes.As many as different kind of food on table, the atmosphere was full with joy.
특히 나는 한국 음식을 먹는 친구들의 표정을 좀 살폈다.
떡이 쫄깃한 식감이라 어떤 반응을 보일지 궁금했기 때문이었다.
다행히 여러번 수저를 가져대며 맛있게 먹어줬다.
I looked around some faces eating food that i brought.I worried the texture of food which is gooey a little bit,most of them gave me lots of positive reaction.
역시나 여러가지 주제가 식탁에 올랐다.
한국에서 나이를 세는 방법, 여행 이야기, 음식 이야기, 더블린 날씨 이야기 등.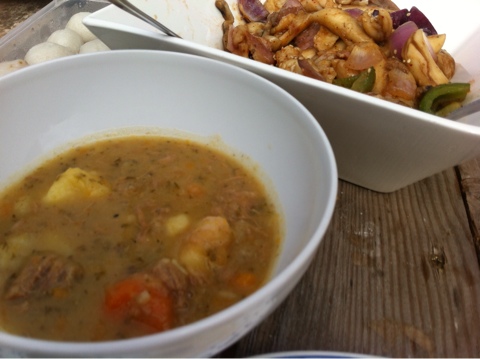 음식도 좋고 사람도 좋고 분위기도 좋고 다 좋았는데
오늘따라 햇빛도 적고 바람도 너무 많이 불었다.
냅킨이 날라가서 내 뺨을 때리기도 했다능…ㅇㅇ
Everything (Food, People, Atmosphere…) was perfect except one – weather. It was too windy and I was slapped across the face with flying napkins. (omg!!)
추운 날씨 때문에 다들 몸을 움크리고 식사를 하는 중이었는데,
마침 Karla의 어머니가 만드셨다는 아이리시 전통 스튜가 등장했다.
양고기와 감자와 당근이 들어간 따뜻한 스튜였다.
감사한 마음으로 남김없이 냠냠 먹었다.
At the point, a big pot dramatically appeared!
It was irish traditional stew cooked by Karla's mother.The ingredient of stew was potato, carrot, lamb.I ate a bowl of stew with a big gratitude!
매주 일요일마다 이런 자리가 있으니
정말 부담없이 음식을 가져가서 수다를 떨면 즐거운 경험이 될듯!
다음주 날씨는 오늘보다 화창했으면 좋겠다..:)
It's going to be opened every sunday from 2pm. Bring a dish, share a bit.
I hope the weather would be more lovely than today!!